ROY - Vocals
Roy discovered his voice whilst at school and took the lead roles in a number of school productions. His love for 50's and 60's music led him to follow his passion and he joined his first band in 1979. In the early 90's he teamed up with Rob Ellis to form the duo 'Revival'. He successfully sang and played keyboards, frequenting the South West circuit for over seven years. Then in 2004, after short break, he joined 'The Graduates,' a five piece function band playing weddings, theatres and clubs. The function band 'Nevertheless' followed.

His favourite singer/songwriter is Roy Orbison, he was also inspired by the music of Johnny Cash and is a big fan of Country Rock.

''The Old Dogz  give me a chance to perform some of my favourite songs, supported by some of the best harmony vocals in the business''

He can claim to be an International singer having performed in Perth Australia and California USA
Roy joined 'Old Dogz' in January 2011.
Roy uses:

A  Shure 58 Wireless  and a 1950's Classic vintage style Microphone
 
Jon - Drums and vocals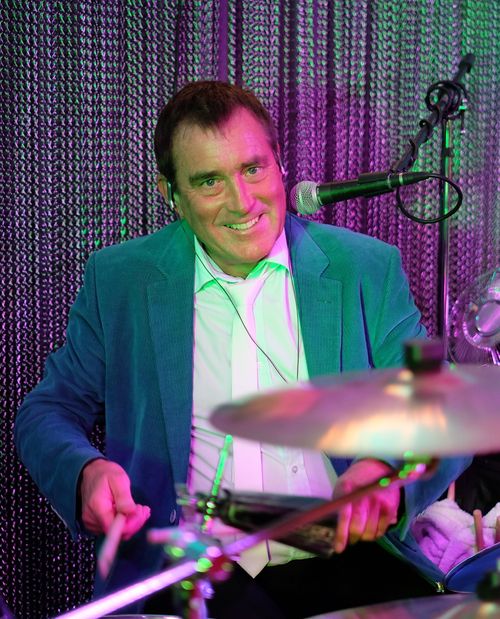 Jon Made  his drumming debut in 1963 playing Wipeout in his brother's band The Silhouettes. He learnt his drum rudiments and discipline in a marching band, and in the late sixties played at venues including the Royal Albert Hall and the Colston Hall in Bristol, amongst many visits to France. 
 In 1966 Hughie Green presented Opportunity Knocks in a summer season at the Pavilion Theatre, Weymouth. Jon entered the competition playing in a duo called David and Jonathan. They won it two weeks running and their reward was to appear twice nightly on the show working with people like Monica Rose, Tony Holland (remember the Muscle Man?) and Bobby Bennett (Junior Showtime). He had a fantastic time and even got to sail on Hughie's boat. 
 In the late sixties Jon appeared a couple of times on Westward Television at the old studios in Plymouth. On one occasion he appeared in a period drama playing a regimental drummer - he recalls having to go to the makeup room to have his hands made up (because that's all that was seen). That's showbusiness! 
 He has played in many venues, mainly in the South West, with several bands including The Vee Jays, Outward Bound, Reflections, Inspirations and Ex-Directory. He joined Old Dogz... New Trix in March 2006.
ALAN - LEAD GUITAR AND VOCALS
 Alan started playing when he was 12 years old trying to play the music and copy the routine of the "Shadows".  He Joined the "Jaguars" (a Yeovil based group) when he was 14 years old, they were the first local band to play "Beatles" and other covers of the Liverpool beat boom era in thFfe early 60's. The "Jaguars" evolved into "The Generation" in 1965 which included Richard Parsons on keyboard and Colin Elkin on bass guitar.The group played at venues through out the southwest including the notorious Glastonbury Town Hall. "The "Generation" split in 1969 but 40 years later Alan joined a band called the"Rocking Sixties" joining up with his former singer from the "Jaguars", and when the bass player left it was only natural for Colin Elkin to take his place
 Alan joined Old Dogz early 2018 with his pal Colin Elkin on Bass, their first gig being back in February (2018)
COLIN - Bass Guitar and vocals
_"Colin might be new to "Old Dogz" but he certainly isn't to the music business. He started in the sixties with "Dave and the Four Pharaohs" then he met up with Dick Dare and Mike Argent (The Salvos) to form " The Deepline", after that he joined up with Alan Helliar in the "Generation" ,then a series of Blues/B&B bands which include "Last Orders", "Dirty Work", "Stepping Out", and "Idle Fretz", before "Fog",and "Barking Hatstands". "Rocking Sixties" and "Sladest" ( Michael Evvis opening song backing band at the last two Glastonbury Music Festivals are Colins latest bands 
Colin joined Old Dogz with Alan Helliar in early 2018.
ROB - keyboards, guitars and vocals
A mixed bag of abilities, backing vocalist, keyboard technician and Rythmn guitarist. Very much a band member, injecting warm harmonies to the vocals, all the frills and sounds usually provided by the orchestra and of course some solid based rhythms on guitar. 
Rob started gigging with a scratch band formed for the season at a holiday park for a couple of years and odd bands for a further 2. He then spent the next 14 years with "Spiral", a 5 piece show band covering all styles from strict tempo, swing band and current pop songs of the decade (80s). 
Rob joined "Ex-Directory" around 2001 when their keyboard player left, where he first met Jon Parsons.  
Further bands were "Beat by Five" later evolving into "Something Else" Predominantly 60's themed music covering hits from the "Beatles", "Hollies", "Hermans Hermits" etc. Anything that had spine tingling harmony was fair game. 
Rob in fact has depped with "Old Dogz" on the odd gig a number of times over several years, when "Something Else" finally came to an end in spring 2018, and following a surprise phone call from Jon, Rob is now an"Old Dog"